Card Solutions' Patient ID XPress™ barcode label & wristband system provides you the ability to print barcode patient identification labels and barcode wristbands instantly anywhere in your facility. Our on-demand label systems allow you to print 1 to 50 or any amount of labels when you need them and more importantly, where you need them.
Patient ID XPress™ is your flexible and portable labeling system:
Produces patient barcode master label from your existing embosser data stream or on-line system.

No more noisy, unreadable imprinters!

Prints patient labels on-demand where and when you need them.

Produces labels with or without barcodes for additional identification and tracking.

Operates off-line so there is no downtime.
Need to replace a patient ID label or barcode patient wristband for an existing or transferred patient? Now you can print both barcode labels and barcode wristbands at your:
Nursing Stations

Patient Registration Areas

Labor & Delivery

Same Day Surgery

Emergency

Ambulatory Surgery

Clinics

Outpatient Services
INTERMEC PRINTERS PB22/32/50
The Intermec rugged mobile label printer family delivers the fastest choice for customers with demanding applications in warehousing, distribution, in-store retail and enterprise asset management. Coupled with Intermec rugged mobile computers and software, the PB22, PB32 and PB50 mobile label printers help companies improve productivity and efficiency while lowering the total cost of ownership.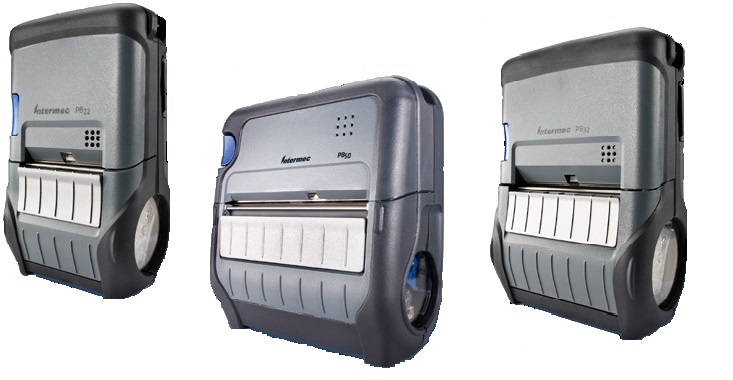 With ultra-fast print speed and proven two to three times faster time-to-firstlabel* than competitive products, these printers deliver measurable improvements in worker productivity and accuracy. Unique design elements, such as the label gap and label take sensors, help maintain productivity while reducing waste.
The PB label printer family is built on a common electrical and mechanical foundation, and integrates closely with Intermec mobile computers and software, including Intermec Terminal Emulation (ITE) and Intermec SmartSystems®. This integrated approach provides significant efficiencies in development, deployment and support, and optimizes
speed and performance. Intermec SmartSystems provides remote monitoring and diagnostics to networked devices so problems can be resolved quickly. Shared accessories across the family add flexibility and reduce spares inventory and costs. Intermec media options, designed specifically for the PB printers, ensure consistently high print quality across a range of applications.
Leveraging the Intermec platform gives companies a solution that can adapt and grow with their needs. As "smart" printers, the rugged PB printers can host stand-alone applications developed through Intermec Fingerprint programming to address custom requirements today or in the future, without the need to upgrade hardware.
The printers' comprehensive options and easy adaptability meet a range of application needs. Drop-in media loading, adjustable media holders, and the flexibility to print either receipts or labels enables workers to easily change tasks without changing equipment. A choice of secure wired and wireless interfaces (802.11 b/g, BT, Serial, USB) allows you to select the one that fits your environment. Multiple carrying options are available, including belt clip, shoulder strap and vehicle mount.

The rugged design of the PB22, PB32 and PB50 printers means performance you can depend on, day after day.
Available in both direct thermal and thermal transfer and 2″ and 4″ media widths, the C Series printers will shape the future of the on-demand barcode label printing. Our products are packed with attributes that go beyond "feeds and speeds".
Metal main frame for extended printer life and consistent print quality. Die-cast LCD control panel for for easy setup without a computer. Full Communication Suite including internal Ethernet, serial/parallel, and USB A&B ports for easy connectivity. Up to 8 ips print speed for maximum productivity in a small desktop footprint. Real Time Clock (RTC) standard on every printer. 16 MB RAM with 8 MB Flash Memory for faster processing as well as storage for formats, graphics and fonts. Fast 32 bit 200 MIPS Processor for fast throughput and incredible first label out speed. Large Roll Capacity for high volume applications and continuous printing. Includes Cognitive Programming Language as well as other emulations (ZcPL, EcPL, and PCL5). Best performance to size ratio and a 2 year warranty.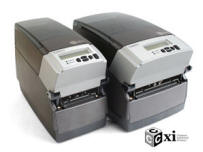 WORLDS MOST COMFORTABLE THERMAL WRISTBAND
ComfortBand is pleased to introduce the new "SensaBand" wristband. SensaBand is the softest, lightest, most comfortable wristband on the market. Today's healthcare facilities are focused more than ever on patient safety and patient satisfaction. ComfortBand is dedicated to offering quality products that are comfortable, easy to use, and affordable priced.
A unique feature of SensaBand is the innovative Twist-Tab design. The Twist-Tab feature makes application a quick and simple process. In addition, SensaBand works with any standard roll style thermal printer producing vivid bar-coding and even grey scale images.
Healthcare facilities are creating wristbands in more locations than ever before. This is driven by new patient safety mandates and the need to continually streamline the ow from registration to discharge. Traditionally, facilities have been faced with limited wristband choices at increasing cost when it comes to patient identication.
SENSABAND JUST MAKES SENSE!
Comfortable

Waterproof

Latex Free

Thermal

Adhesive Closure

Durable

Affordable

Tamper Evident

Made in the USA

Innovative Twist-Tab Design

Works with any roll style thermal printer

A Leader in Healthcare, Gaming Industry Products and Desktop ID Badge Solutions.