PREMIER US PLASTIC CARD MANUFACTURER
CARD SOLUTIONS, INC. IS AN ALLSAFE RESELLER FOR ALL YOUR PLASTIC CARD NEEDS…
For over three decades Allsafe has been on the leading-edge of manufacturing plastic cards for access control, identification, loyalty programs, and security applications. As a U.S. based manufacturer, we target dealers worldwide; who seek solutions that are secure, dependable, and affordable. As a team, we continually work hard to exceed dealer expectations.
We offer an innovative product line, which includes custom printed cards, and badge accessories. Any job large or small receives the highest level of personal service and professional support available from our knowledgeable staff. Our goal is to ensure superior quality products and timely deliveries at a reasonable cost to our customer base.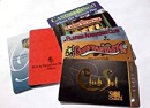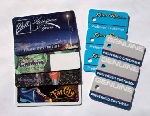 Allsafe works to provide the industry with the latest and most secure in contactless card technology. We offer the market high-quality cards at a competitive price.
Contactless cards use radio frequency identification (RFID) technology to transmit card information to the reader. This technology often eliminates the need to sign a receipt, input a personal identification number (PIN) or hand the card to the cashier thereby expediting the transaction for both the consumer and business. Since contactless cards can be equipped with a magnetic stripe, they can still be used in traditional swipe machines.
Contactless smart card technology such as MIFARE® provides versatile interoperability and are contactless to the reader. The activation is passive and occurs by an antennae signal transmitting off the card to the reader. Read distances vary based on the type of reader.
Recognized as the industry standard for physical access control, proximity cards provide a solution for seamless integration with access control systems. 125 kHz proximity cards provide an added level of access control system security by screening out unauthorized cards prior to sending card data to the host system.
USES: Identification cards, keycards, payment cards and public transit fare cards.
Allsafe Technologies has manufactured proximity cards since 1988. We have the ability to embed any type of chip and coil technology into our cards, keyfobs, clamshell cards and hangtags.
Our cards are compatible with many existing reader systems and can be made to any desired size or thickness. Our cards are compatible with any dye sublimation printer.
Allsafe incorporates advanced technologies embedded into our PVC or PVC/PET cards and Polyester Hangtags for many proximity reader brands using 125 kHz frequency.
A popular technology used worldwide is magnetic stripe. It is used on everything from credit cards to drivers licenses.
Card data can be encrypted on one, two or three of the tracks which are located on the magnetic stripe. Todays dye sublimation printers can encode and print cards in the same process. Magnetic stripe technology is recommended for low to moderate security levels. Typical applications would include membership cards, parking cards and gift cards. It can also be used with time and attendance or financial cards.
Allsafe Technologies offers magnetic stripe and debit stripe technology as an option on to PVC, Polyester Badges, Hang Tags and Laminating Pouches.
Allsafe's PVC and PVC/Polyester Composite cards are the highest quality plastic cards. Our PVC and PVC/Poly Composite cards are compatible with all dye sublimation printers. These cards can be used to make: ID cards, gift cards, business cards, membership cards, loyalty cards – all types of cards with your dye sublimation printer.
Size: CR50, CR79, CR80, CR90, CR100 (other custom sizes available).
Color: White, Red, Orange, Yellow, Green, Light Blue, Navy Blue, Royal Blue, Tan, Grey, Black, Gold, Silver, Copper.
Thickness: 10 mil, 14 mil, 20 mil, 24 mil, 30 mil (other custom thicknesses available).
Due to their low cost, versatility and reliability, bar code technology is often the technology of choice. Combining barcode with other technologies on a security card will make it more versatile.
Allsafe Technologies prints barcodes onto:
PVC
PVC/PET
Three Up Keyfobs
Teslin Inserts
Polyester Badges
Hangtags
Labels
Allsafe laser prints barcodes for many systems such as:
Kronos®
Federal ADP®
Amano – Cincinnati®
Types of symbologies we can reproduce are:
Code 3 of 9
Interleave 2 of 5
Codabar
UPC
To enhance security we will custom print barcode security patches in either Black or Red
Allsafe's hangtags are fabricated from the most durable of polyester materials. They can be embedded with proximity and/or barium ferrite technology and can be die-cut into many available sizes. A barcode can also be incorporated for added security. Hangtags work for hands-free access control into gated parking areas, as the programmed data can be quickly verified by security personnel. Whether used to hang on a rear view mirror or a hotel door, hang tags are a great method of communication.
Features and benefits of Allsafe hangtags:
125 kHz proximity
Highly visible and heat resistant
Custom printed logos, text and sizes available
Number personalization (foil or ink)
Anti-Counterfeit features (such as holographic images) are available
Multiple technologies (proximity, barium ferrite, magnetic stripe and barcode)
Durable polyester build
Convenient "J" hook design
Read distance subject to reader
Hangtags can be used in a variety of applications including:
Industry uses rear view mirror parking tags for employee parking control
Universities for parking control
Hospitals, pharmaceutical companies and healthcare professionals
Hotels, resorts, cruise lines
While Allsafe strives to offer the most cutting-edge technologies, many existing access control systems still accommodate older technologies such as barium ferrite. Barium ferrite is magnetized material embedded between plastic layers. This magnetized material is then programmed with information for access control applications.
We will not abandon this older technology and we will continue to manufacture cards that utilize barium ferrite technology.
We manufacture many compatible cards for the following systems:
Cardkey®
Securakey®
Stanley, Cardlock®
Casi-Rusco compatibilities® (GE Security)
Federal APD®
Allsafe N250
Allsafe hangtags can be embedded with barium ferrite, proximity antenna or, for our one card concept, both!